Updated June 30, 2017
Ever feel left out when all of your friends are talking about current events? We have the solution: news podcasts!
We're not talking (just) about podcasts like Serial. We mean those hard-hitting news podcasts, designed to keep you informed, and maybe a little entertained, too. The podcasts you can't wait to download from iTunes every morning so you sound a little bit smarter than everyone in the office.
Podcasts are an excellent way to get the news for a lot of reasons. One: they're delivered directly to your phone or computer. Two: you can listen when it's convenient for you and while you're doing other things, like laundry or commuting. And three: podcasts feature great, long-form interviews and analysis that go beyond the soundbites you hear on TV.
We've picked 20 of the most popular, most divisive, best news podcasts for this collection. Some are daily news podcasts, some are weekly, and some come out...well, when they come out. Whether you want a podcast that aims for straight facts or one with a host who isn't afraid to share an opinion, you'll find one that works for you. Don't see your favorite? Let us know in the comments below!
All the news that's fit to print
Podcasts that focus on news reporting
Daily
During the 2016 Presidential election, you may have listened to the New York Times podcast The Run-Up. Well, there's nothing to run up to anymore, so Michael Barbaro has moved onto The Daily — another NYT podcast. Seem excessive? Not with the fast-moving pace of today's political climate, where a news segment or a tweet can change American policy. Recent topics: the news.
Download on iTunes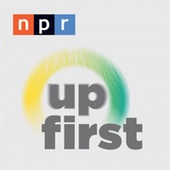 Daily
Not to be outdone by The New York Times, NPR has also released a daily news podcast to go along with their reliable staple of shows like Car Talk. The show predictably covers the Trump administration, but it also veers into pop culture. Up First also focuses on brevity, giving listeners everything they need in only 10 minutes — perfect for busy mornings. Recent topics: the news.
Download on iTunes
Hourly
Five minutes of news, on the hour, every hour. Seriously: you will get twenty-four of these podcasts every day. This is the ultimate podcast for news junkies who want to be updated on the latest stories. Recent topics: the news.
Download on iTunes
Twice Daily
Compiled highlights of various BBC news shows, including Newshour, World Update, Newsday, The Newsroom, and Outside Source. Each episode is thirty minutes long and you get one in the morning and one in the evening. BBC is one of the only sources of truly global and (mostly) unbiased news, making this podcast a must-listen for any news junkie. Recent topics: the news.
Download on iTunes
Daily
One of the most significant nightly news programs in America, NewsHour is well-respected for its analysis and original reporting. The podcast offers audio versions of the nightly broadcast. Unlike other daily podcasts, PBS NewsHour also produces a weekend version. Recent topics: payday loans, web-based media, gender discrimination.
Download on iTunes
Daily
One of the most popular radio shows in America, now conveniently delivered directly to your phone or computer. Host Marco Werman brings you stories from around the world in PRI's hour-long daily broadcast. Sometimes political, sometimes cultural, each story is a reminder of "just how small our planet really is." Recent topics: Nigeria, Boston Marathon bomber's trial, ISIS recruiting in Minnesota. (And that's just one episode.)
Download on iTunes
Weekly
"Unfilter" the news with this podcast from Jupiter Broadcasting. Hosts Chris and Chase are media watchdogs and topic deep-divers who help reveal the important news stories that mainstream media outlets aren't covering. Reviews on iTunes describe Unfilter as "Windex for the news"—essentially, clearing away mainstream media's obfuscations. Recent topics: ISIS, Brian Williams, oil rigs.
Download on iTunes
Weekly
On The Media isn't exactly a media watchdog, but it isn't exactly a lifestyle magazine, either. It exists somewhere in-between those two extremes, featuring commentary on all types of media: emails, Yelp reviews, and mainstream news outlets, just to name a few. If you're looking for entertaining commentary on the way media is changing all around us, give OTM a shot. Recent topics: true crime, online astrology, the U.S. torture report.
Download on iTunes
A few times per month
Everyone knows Supreme Court cases are super important, but do you understand the legal intricacies? The host of Slate's new podcast, Dahlia Lithwick, will help you understand the ins and outs of every case with the help of the nation's top lawyers and legal experts. Want to look impressive at cocktail parties? This is the podcast for you. Recent topics: toxic emissions, Guantanamo, lethal injections.
Download on iTunes
Here, let me tell you what I think...
Podcasts that focus on opinions
Weekly
Politics can be dirty, but they can also be messy — as in, you don't know what you'll have to dig through to get to what matters. The Weeds, hosted by Ezra Klein, Matthew Yglesias, and Sarah Kliff of new site Vox, totes itself as a "policy podcast." They don't just take a look at what's happening in the news, but in the context of the broader implications of rather than simply what politician put his foot in his mouth most recently. They get lost in the weeds so you don't have to. Read more here. Recent topics: healthcare, travel bans, Russia.
Download on iTunes
Twice weekly
Like your political news with some inside information and a left-leaning slant? This irreverent podcast, hosted by Jon Favreau, Dan Pfeiffer, Jon Lovett, and Tommy Vietor, all formerly of the Obama administration, is unabashedly liberal and, currently, anti-Trump. They've taken to promoting activism in their episodes, repeatedly asking the question, "What can we do about _____?" and encouraging listeners to take a stand at rallies, town halls, and marches. Read more here. Recent topics: Trump, activism, pundits.
Download on iTunes
Every few days
If you only have time for one political podcast (and you have liberal politics), make it Best of the Left. It collects audio from multiple sources around a particular current events topic, giving historical context as well as diving deep into multiple aspects of the issue. The show is also interspersed with music, voice mails from listeners, and activism segments. Recent topics: climate change, housing segregation, Netanyahu.
Download on iTunes
Citizen Radio
Daily
A completely independent and irreverent political podcast, Citizen Radio is a daily hour of commentary from reporter Allison Kilkenny and comedian Jamie Kilstein. Don't expect anything traditional from this podcast: it's designed for progressive millennials who are fed up with the way the world works and want to reform America, so expect a few cuss words. Recent topics: Indiana's religious freedom bill, fraternities and rape culture, debtor's prison.
Download on iTunes
Approximately every two weeks
You might know Dan Carlin for his hugely popular podcast Hardcore History. In-between episodes of that show, he does Common Sense, his (usually) bi-weekly current events podcast. Carlin is an old A.M. radio guy, so it's pretty much just him explaining his views into a microphone. Carlin's controversial with both liberals and conservatives, so if you're tired of the normal talking heads, give him a chance. Recent topics: international trade agreements, Russian relations, income inequality.
Download on iTunes
Weekly
KCRW's political podcast emulates the classic debate setup: someone on the left, someone on the right, and someone in the center to moderate the discussion. The discussions are more lively and the opinions more thought-out than what you're used to seeing on the Sunday morning TV shows, but it can be frustrating to listen to. Each issue is capped with a time limit, and oftentimes the commentators have just barely scratched the surface of the issue when it's time to move on. Recent topics: Yemen, the budget, Iran's nuclear program.
Download on iTunes
Weekly
The New Yorker's description of this podcast keeps it simple: "A weekly discussion about politics, hosted by The New Yorker's executive editor, Dorothy Wickenden." Often, this short podcast is that simple. Wickenden chooses a topic and selects some of The New Yorker's best writers to discuss it. But the resulting discussions are complex, lively, and unique. The only downside to this podcast is that it's very inside baseball, focusing much more on the politics and not so much on the real impact of the issues on the American people. Recent topics: the two-state solution, immigration, vaccines.
Download on iTunes
Weekly
Slate's most popular podcast and one of the most popular political podcasts in the world, Political Gabfest is described as "the kind of informal and irreverent discussion Washington journalists have after hours over drinks." While the three hosts claim to be outsiders, at this point, they're well-established political analysts, so expect a little inside baseball. Recent topics: Ted Cruz, Vladimir Putin, Hillary Clinton's email account.
Download on iTunes
Twice weekly
From the outside in, No Agenda seems more like a cult than a radio show. Full of inside jokes and weird conspiracy theories, No Agenda is tough to get into for the uninitiated. Though there's no set agenda (hench the title), No Agenda typically covers current events and attempts to shed light on facts that they feel mainstream media are glossing over. Recent topics: Germanwings, marijuana legalization, Hollywood's PR machine.
Download on iTunes
Weekly
You might know John Oliver from The Daily Show or his HBO show Last Week Tonight. You probably don't know Andy Zaltzman, his co-host on The Bugle. The Bugle is British satire, and I mean it when I say British. It is very British humo(u)r. Don't expect to learn much from The Bugle, but if you're already pretty well-informed and you need a pick-me-up, The Bugle has your back. Recent topics: Greece's economy, Russia, Wrestlemania.
Download on iTunes
Hey, where's _______?

Don't see your favorite podcast? We probably left it off because we're part of a worldwide media conspiracy. Or we just haven't heard about it! Leave us a comment below with a link to your favorite news or opinion podcast.
Want easy money tips delivered to your inbox each Friday? Sign up for the Policygenius newsletter here.
Image: Alex Blăjan