Where to find it
Policygenius kicked off the year with our second-annual out-of-home campaign, with digital assets online and in five major cities: New York City, Washington D.C., Los Angeles, San Francisco and Chicago.
The 10-week out-of-home campaign includes:
Station domination and subway train takeovers in NYC and D.C.

Superking buses in D.C. and L.A.

Billboards in L.A.

Street-level kiosks in San Francisco

Digital signs in elevator and lobby units in Chicago
The ads highlight our life insurance product and newly-launched auto and home insurance products.
Campaign concept
We wanted to visualize the value that Policygenius offers to busy consumers — saving both time and money by making things easy. Comparing quotes from many insurance websites is now as simple as pushing a button.
Portraying a digital service is always a challenge, and for this campaign, we wanted to go beyond the standard "app on a phone" imagery. We worked with the incredible team at The Mill to create a set of six mechanisms, each visualizing our simple cause and effect price comparison in a different way.
The digital animation ads
The ads in the wild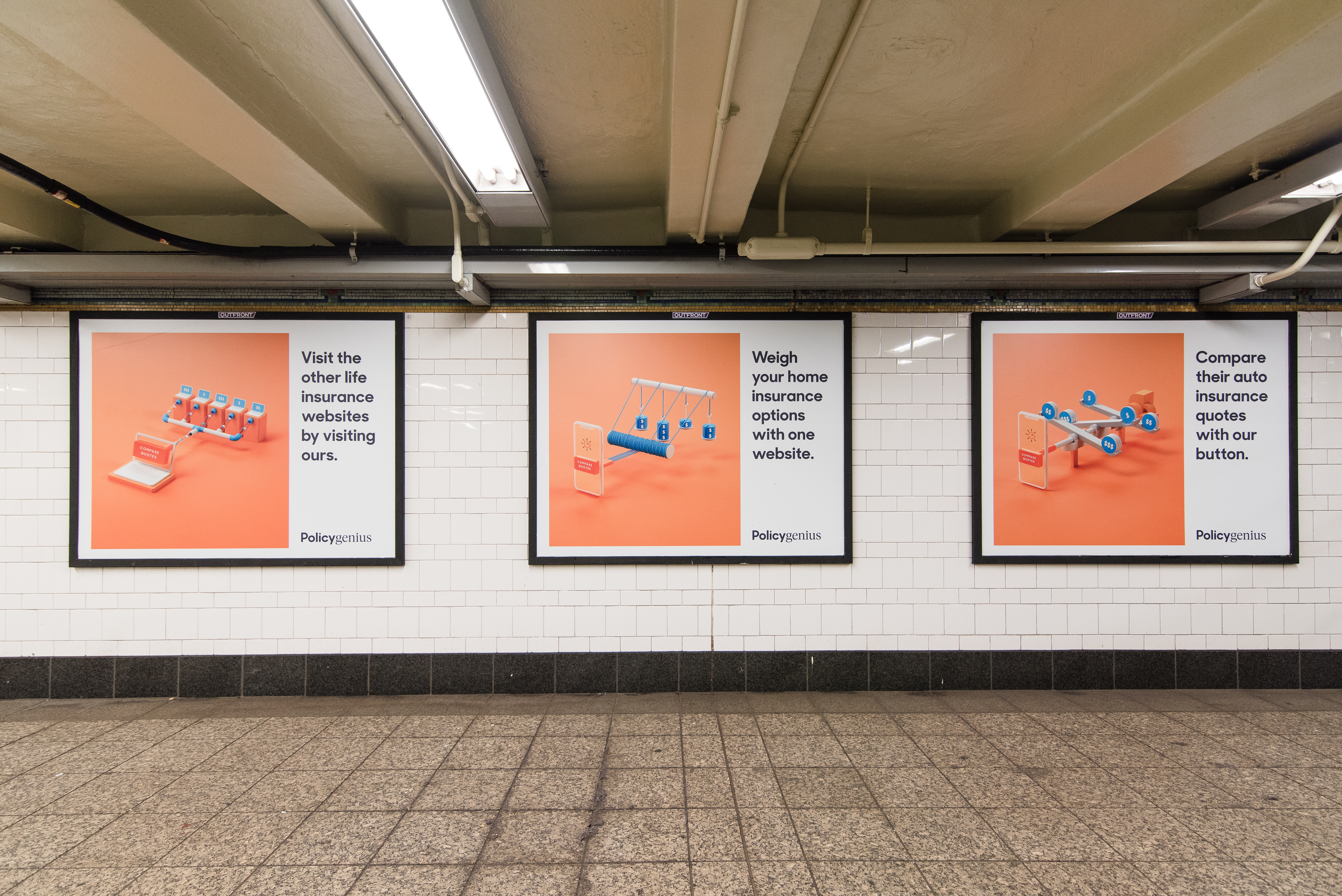 The creative team behind the campaign
Policygenius In-House Creative Team
Founder & CEO: Jennifer Fitzgerald
Founder & Chief Product Officer: Francois De Lame
Chief Design Officer: Justin Ternullo
Head of Marketing: Jonathan Metrick
Director of Product Marketing: Matt Byrd
Product Marketing Manager: Kristen Ong
Creative Director: John Downing
Senior Art Director: Stephen Icardi
Executive Producer: Samuel Cosby
Motion Designer: Daniel Zvereff
Production: The Mill
Chief Creative Officer: Angus Kneale
Director: Matt Whitewood
Animation/Design: James Van Den Elshout, Anton Woll Soder
Executive Producer: Christina Thompson, Heath Raymond
Producer: Joaqui Lopez
Production Coordinator: Mimi Milligan
Want to know more?
For more information about the campaign, you can email Senior Media Relations Manager Brooke Niemeyer at brooke.niemeyer@policygenius.com
Want to join the team?
Are you interested in helping people get the financial protection they need — and feel confident in their choices? We're hiring.